ILCS provides Internet access to commercial and residential customers via Dedicated "T1, Fractional T1, DS3, Fractional DS3 or Metro E " connections. ILCS focuses primarily on commercial and residential customers in Florida.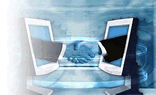 The company enters into long-term contracts with telecom operators to provide a suite of quality services, which are a bundle of comprehensive communications and server's infrastructure managed by our dedicated personnel. These services enable our customers to receive reliable and cost effective Internet access.
Dedicated Access
Commercial Access
Our Dedicated access is designed around T1 and DS3 connections. ILCS offers full-featured connectivity to the Internet via dedicated T1, Fractional T1, DS3 and Fractional DS3 service.

We provision local loops economically and efficiently through an industry-leading relationship with the regional telecom provider.

Working with our ILCS Consultants and Service Engineers, we recommend the connectivity option that is most suited to your business's dedicated Internet access requirements.
Access Bandwidths Options available with fixed predictable monthly pricing range in speed from 56kbps to 1Gbpss
---