Publishing a Web Page
FTP
Below is a set of instructions on how to upload or publish a web site using FTP (File Transfer Protocol). Note: There are many FTP programs in the market, but ILCS suggests WS-FTP for user because of its user friendly interface.

1. Open WS-FTP
2. Next to Profile Name, type Web Site or which ever name you like.
3. Next to Host Name/Address, type the server name you are uploading to.
ILCS' server is ftp.ilcs.net.
4. Next to Host Type, leave it as Automatic detect.
5. Next to User ID, type your username all lowercase.
6. Next to Password, type your password.
7. Then hit OK.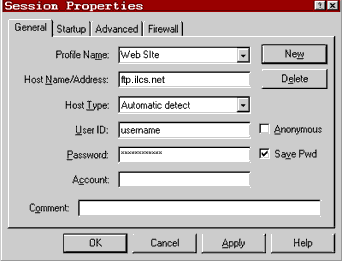 8. When it connects, you will see two sections: Local System and Remote System. Local is your computer and Remote is the server. All your files must be placed in the html folder. To transfer your files highlight them in the local side and hit the arrow in between both sides.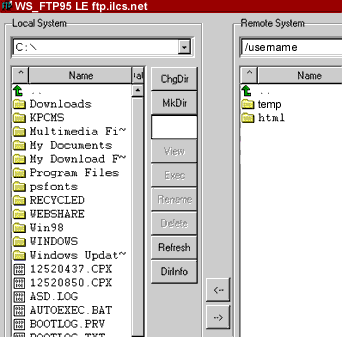 ---